This Florida girl just isn't willing to admit defeat in the face of this cool Fall weather. True, it's October. But here in my house, where we're used to balmy weather even in November, we'll be having popsicles for a while longer. And that's that. You can't kill my tropical spirit, Pittsburgh!
With this in mind, I picked up some deliciously tropical mangos. Frozen, of course. How could you possibly think I could find good mangoes here? You can't. And that goes for avocados, too – even in the heat of summer. It just ain't natural, I tell you.
Anyways, those tasty frozen mangos… Mixed with some whole coconut milk, this little out-of-season popsicle is a perfectly cool and creamy treat. For my Florida friends, it's just the thing for a hot October day…for us here where the seasons follow a more typical pattern, well, I'm pretty sure it's enough to transport our hearts and minds to a momentary tropical paradise.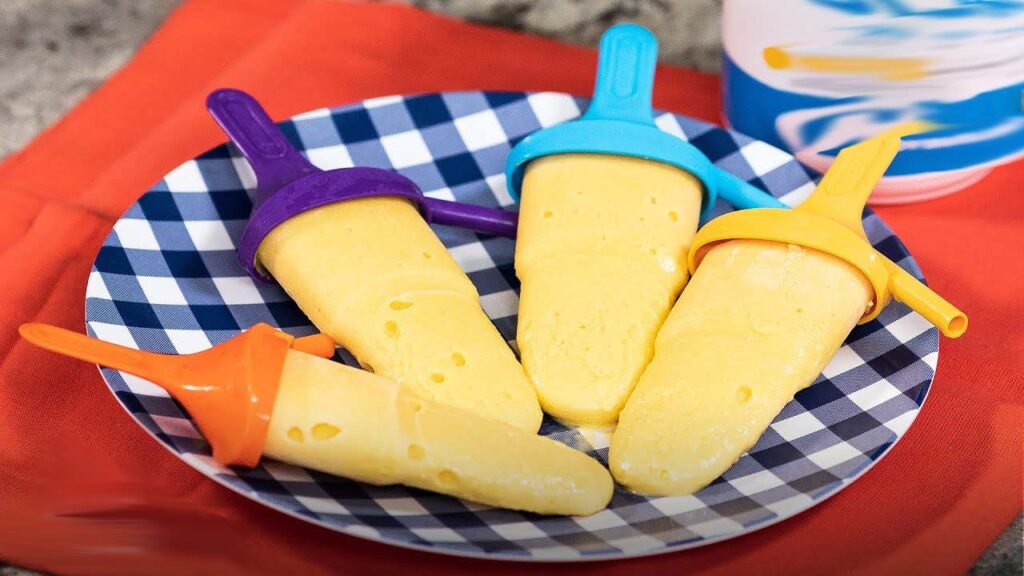 For the kids, it's got all that healthy, coconutty goodness – so they get a good dose of healthy fats and immune-boosting lauric acid. And since there's no sugar or juice in sight, the coconut milk combines with raw honey and whole fruit to make a fruity creamsicle that satisfies sweet cravings without a spike in blood sugar. In other words, just right for an after-school snack!
This makes just enough for four small pop molds, but is easily doubled or tripled! PrintTropical Mango Creamsicles
Ingredients
Instructions
Puree all the ingredients in a food processor until smooth. Spoon them into molds, and freeze for at least 4 hours, preferably overnight. Enjoy!