Disclaimer: I was paid to write this post and have an affiliate partnership with this sponsor. However, I only write posts about products I truly believe in.
Are you ready for a super awesome, life-changing giveaway? This month, enter here to win a free at-home 8-panel hormone lab test and a $250 gift card from Pure Prescriptions – a $600 value!!!
Wondering how to tell if you have a hormone imbalance? Here are a few of the common symptoms of a hormone imbalance:
Infertility
PMS
Mood Swings
Migraines
Fatigue/Low Energy
Skin Problems
Hair Loss/Unusual Hair Growth
Depression
Anxiety
And those are just some of the common symptoms! It's hard for your hormones to escape unscathed from the effects of a modern lifestyle. Our hormones are affected by everything from birth control to pregnancy to stress! The encouraging news is that by taking a hormone lab test, you can start to make effective changes that can have a lasting change on your health!
At-Home Lab Test Giveaway
Now through June 12, you can enter to win a FREE at-home 8-panel hormone lab test ($350 value), plus a $250 gift card to spend at Pure Prescriptions ($600 total value). In a matter of a couple of weeks, you could get your hormones tested by a health care professional and find out what you need to do to get back on track! The 8-panel hormone lab kit tests cortisol, DHEA/DHEA-S, estradiol, progesterone, and testosterone levels in the body.
There's no need to schedule a doctor's visit. There's no need to pay a co-pay (or out of pocket). There's no need to drive to your appointment. You can do this lab test in the convenience of your own home.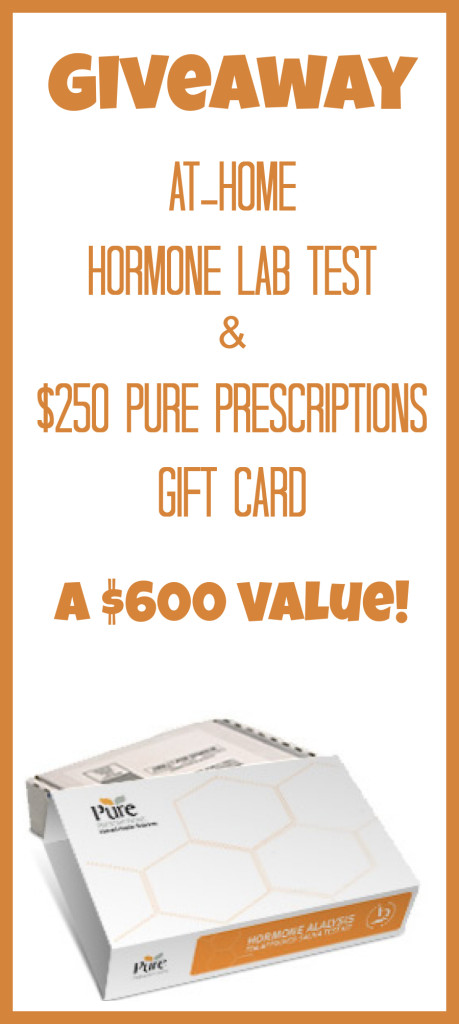 Pure Prescription is an online retailer of doctor-grade vitamins, health supplements, green drinks, sports nutrition and at-home lab tests – in fact, they are one of the few vitamin companies that offer lab tests. The company has been around for over 10 years and prides itself on personalized customer service (the customer service reps will ACTUALLY do phone or chat consults with you for FREE).
How Lab Testing Works
Receive the saliva lab kit in the mail. Collect samples and send back to the lab in a pre-addressed, pre-paid box.
Within 1-2 weeks, the lab results are processed and reviewed by Dr. Chad Larson, director of nutrition at Pure Prescriptions, certified clinical nutritionist and doctor of chiropractic.
You receive a personalized call from Dr. Larson to discuss your results and create a plan of action on how to balance your hormones.
Pure Prescriptions offers at-home lab tests for every health concern
Hormones (for both men and women)
Gluten and food intolerances
Celiac
Bone health
Adrenal health
Pre-diabetes
Blood typing
And much more
Check out all at-home lab tests here.
Giveaway Details
One winner will receive an at-home 8-panel hormone lab test (a $350 value) PLUS a $250 gift card for Pure Prescriptions supplements ($600 total value)!
How to enter the giveaway:
1. Sign up for the Pure Prescriptions email newsletter.
2. Like Pure Prescriptions on Facebook.
3. Use Rafflecopter to log your entries and unlock bonus entries. For more ways to win, visit all of the blogs participating in this giveaway!
Rooted Blessings

Real Food RN

The Healthy Honey

Natural Family Today

Fostering Nutrition
You can try an at-home lab test from Clinical Supplies for yourself. The Sweet Plantain readers get 25% off on rapid tests with coupon code TBBLOG!. This is a special offer by Clinical Supplies because sharing is caring and we at Clinical Supplies Australia, care about you the most, learn more about us at https://clinicalsupplies.com.au/